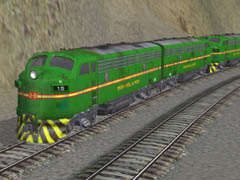 12/2/03 600k
KUID 62941 200052
Auran Downloads: 1700+
Reskinned F7 for Chuck Barkman's excellent Highland Valley line. I fell in love with HV when SP3 for the original Trainz was released and the first scenarios were written for it. In fact it inspired me to write my first scenario, Highland Valley Wayfreight. All the HV needed was some of its own rolling stock, so I hopped to it and made some. Requires Paint Shed.
SP3, UTC, 04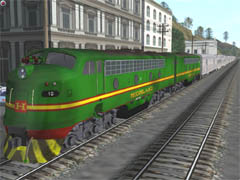 15/2/03 494k
KUID 62941 200023
Auran Downloads: 1700+
After purchasing the four F7s, the Highland Valley line bought two E7s for passenger trains. They've given long and faithful service and are due for retirement soon. Requires Paint Shed.
SP3, UTC, 04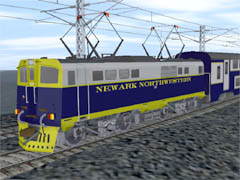 19/5/03 183k
KUID 62941 300085
Auran Downloads: 600+
Newark Northwestern 6E1 Commuter Electric. Powers the express double decker services on NYOW2000s superb Newark Northwestern route. Requires Paint Shed, also custom hornsound in Components downloads.
SP3, UTC, 04