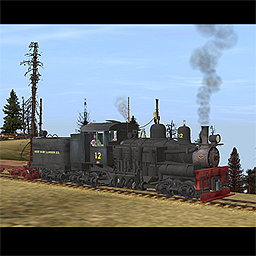 WSLC 12 TRS2010 Version now available! This is the same well loved WSLC 12 from UTC I originally built in 2003 but it now works and has been tested in version 2010 and 2012. Fixed some mesh and syntax errors as indicated in Content Manager to keep this loco alive in modern Trainz versions. Download in the loco section or click the picture.

Uploaded some West Side Lumber Co. scenery items along with a bonus Camp 8 linen car rolling stock item. These items should work with nearly every version of Trainz up to TRS12. Go to Downloads section to get them.

Updated a few rolling stock items while testing the West Side Lumber Co. sampler route in TRS10 and TRS12. The WSLC Caboose #2 and the D&C 36" Bogey has been updated to TRS12 standards. The bogey is required to make the very popular D&C 24 foot Flatcar work in TRS12. You can find the files in the rolling stock downloads page.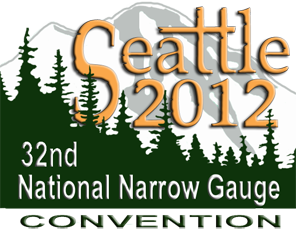 Thanks to all the folks that attended my Virtual Railroading clinics at the Seattle NNGC. For reference the clinic slides are available here. Although I have not made much progress on any of my Trainz projects lately due to real model railroading, there is enough interest in the Virtual WSLC for me to make a sample section of the route available in the near future. Look for an update on this project this winter.
Another new switching layout released - the "Hull Oakes Mill Inglenook". This small layout is based on the prototype Hull Oakes Lumber Mill trackage near Dawson Oregon USA and closely mimics the Inglenook Sidings type of switching problem. It only has three sidings and two turnouts - can't be that hard right?? This is a TRS2010 only route and features all built-in content. Just download and run. Go to the routes page or click the image below.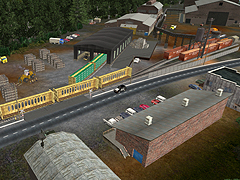 New route uploaded - the "Switchmans Nightmare". A small intensive switching problem that uses all built-in content from TRS2010. No searching for anything, just download it and run it. Go to the routes page or click the image below to get it and boggle your mind.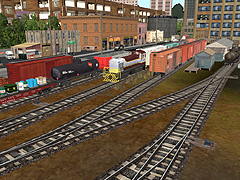 Added some slideshows to the Gallery section on some of my model railroad projects.
NEW DOWNLOADS
Updated more rollingstock and added an animated steam donkey to the structures downloads page.
Updated versions of my M-Log log dump industries have been placed in the downloads/structures section. These have been fixed to work with Trainz version 2009.
Take a look in the downloads section. I am slowly updating some of the more popular and requested items. Just uploaded are the Northbay Sawmill and Backcountry Watertank in the structures section Both are interactive industries for your narrow gauge logging projects.
NOTE: Backcountry Watertank has been released with an error in the script. Uploaded fix is now available for download in the downloads/structures section.
CLEAR LAKE LOGGING V3 PROJECT
Screenshots: Page 1 Page 2 Page 3 Page 4 Page 5 Page 6
2010 marks the 7 year anniversary of the original Clear Lake Logging route. The latest version is the Clear Lake Logging Version 3 which expands the original by two baseboards for enhanced operations with a multitude of interactive structures. Several screenshots and project discussion can be seen here. This route aims to be the busiest and most original logging route ever made for Trainz. All structures, scenes and trackage will be created by myself alone to ensure only the highest quality and control. Once the route is completed, the project will continue with new rolling stock and logging specific locomotives. The final touch will be a series of scenarios designed to entertain as well as educate the user in early 1900's logging operations.
When will it be completed? Well that is difficult to answer. With the amount of items that need to be created from scratch, a definitive timeline is not possible.
Stay tuned to the Projects Page or click here for more...
HEY SLUGSMASHER - WHAT HAPPENED TO THE WEST SIDE AND MICH-CAL?
These routes are still planned. Being prototypical routes though, the research and development time is considerably longer. All items have to be made from scratch which adds to the time. I do have the DEM topography for each route and integrated into Trainz. Much of the mainline for each route is complete also. However, that is the easy part. The rest will take several dedicated months and possibly years to complete. All I can say is - one of these days I'll get back to those. For the patient ones though, I do plan to release some teaser route sections this year if possible. Stay tuned for updates here and on the Trainz Forums.
NEW ROLLING STOCK - 3 FOOT TANK CAR
Released new rolling stock 3 foot tank car in the downloads section. This tank car is industry compatible and carries water only.
RESEARCH PHOTOS UPDATED
Added some pictures to the reference section from my trip to Japan and the Yamaguchi steam train. More...
ORIGINAL CLEAR LAKE LOGGING SUPER PACK
New on the site is the CLEAR LAKE SUPER PACK. The original Clear Lake page in the routes section has been updated with a super CDP pack of 3rd party content. Many people are still downloading the original route from the Download Station and this will help to ease the installation. More...